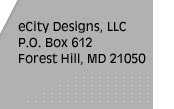 You have a website, but you are not receiving the traffic you want. Perhaps you are receiving leads, but are unable to deal with them efficiently and with ease.

We can help you reach your target audience, both localized and worldwide, and ensure no potential business falls through the cracks.


Site promotion is a made-to-order service.

Priority Positioning Maintenance. We will research your industry and formulate a title, description, and list of keywords to maximize placement within the search engines. Each month, we will review how your site is doing in the search engines, and make changes accordingly to increase the performance of your site. In addition, we will optimize your HTML code to increase the listing of your site on the search engines. We will also submit your site to any new local guides and search engines each month.

Search Ranking Reports. A monthly comparison analysis of your website's ranking on all major search engines is reported using five different popular keyword strings related to your business industry.

Advertising Advising. We analyze your current advertising ventures as it relates to your web site and report the results of each ventures' success on a monthly basis. We also make you aware of potential advertising options that we have researched that we feel could be beneficial to you company. We analyze your website and make suggestions to increase its customer friendliness and overall success.