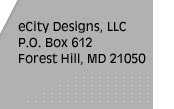 With an ever-changing and expanding market, it's hard to keep up with the times- That's just what we do!

Continual reseach and studying ensures all websites we build are viewable in most browser types, at any resolution, and can be found on search engines like Yahoo! and Google. All of our website packages cost an affordable one-time fee- no continual monthly costs. Plus, there's no extensive wait period. Our websites are typically built within a two-week period.

Below are our main package offerings. Custom Packages Available.


For small businesses that want a simple, yet professional presence on the Internet. Test the successfulness of internet marketing and upgrade later.

Simple and professional design layout
Package comes with upto five (5) pages
Pictures and content supplied by the client
FREE Intital Search Engine Optimization
INTERMEDIATE WEB DESIGN PACKAGE
For established businesses that want more than a simple Internet presence.

Professional and moderately graphic design layout
Package comes with upto twelve (12) pages
Pictures and content supplied by the client
One (1) FREE Upgrade Option*
FREE Intital Search Engine Optimization
PREMIUM WEB DESIGN PACKAGE
For businesses that want a competitive edge on Internet marketing.

High level graphic design and layout
Package comes with upto twenty-four (24) pages
Pictures and content supplied by the client
Two (2) FREE Upgrade Options*
FREE Intital Search Engine Optimization